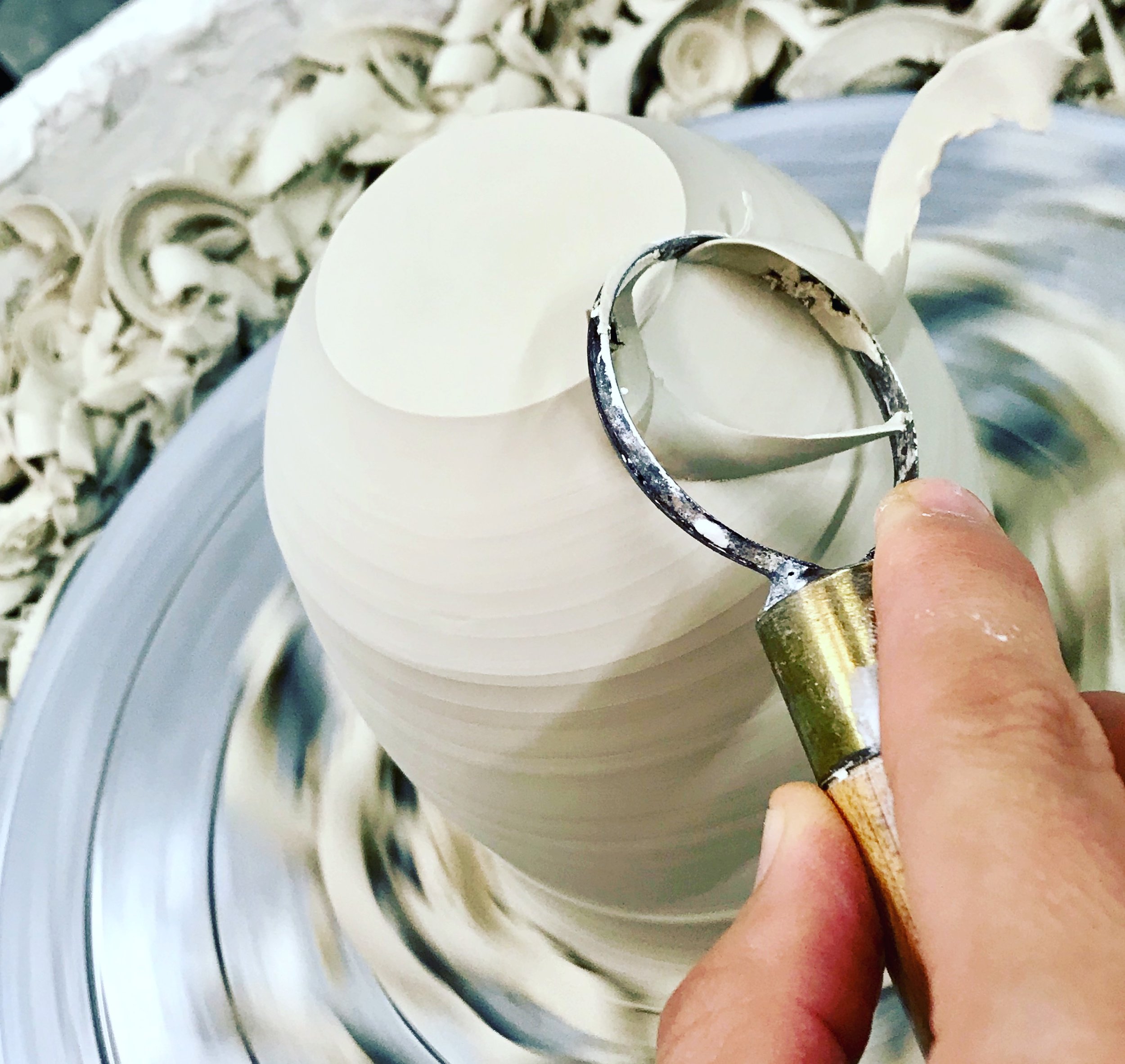 Frequently Asked Questions
Submit a question in the form below
Do you Make all these pieces yourself?

I do. all my work is wheel thrown by me on the potter's wheel, I decorate my pieces by hand using either sgraffito or slip trailing and fire them in one of my studio's electric kilns. I even developed the recipes for the glazes I use. I collaborate with my partner on some of the larger pieces like the platters.
What is Porcelain?

Porcelain is basically really pure and fine clay. It is difficult to work with but so rewarding once you get the hang of it. My pieces might look fragile but high fired porcelain is one of the strongest materials in the world.
Is your Pottery food safe? Dishwasher Safe? Microwaveable?

the short answer is yes! all my work is meant to be used on a daily basis. however some of the decals I use (peacocks, golden ships) are made from real gold, and we all know that shouldn't go in the microwave and the shine will most likely last longer if you wash those pieces by hand. all my other work will hold up great in the dishwasher and in the microwave. all my work is food safe.

How do you get the Spikes on your Bowls?

I use a technique called slip trailing to apply the tiny spikes to the surface of my sea urchin line pieces. It's basically liquid porcelain that I apply using a surgical bulb. it requires a steady hand and lots of patience.
What is Sgraffito?

after my porcelain pieces air dry I brush the surface with black underglaze. (underglaze is pigmented clay, I use a brand called amaco). I then carve through the layer of underglaze into the clay body to reveal the white color of the porcelain underneath.
What is your inspiration for the Nautically Themed work?

I grew up in a coastal region of the world. however my work didn't take a nautical turn until I moved away from the sea into the mountains of North Carolina. It's my way of connecting with the ocean.
Do you ship?

I do ship, check out my Etsy shop to see what I currently have available in my online store.
Can I use your Mugs for hot drinks?

yes, definitely! If you like really hot coffee or brew your tea in the mug, I suggest buying a mug with a handle. I throw very thin and light pots, and your fingers might get hot of you don't have a handle to hold on to. However my tea bowls are popular for cooler teas like green tea, or even for wine, sake, or whiskey.